Hide
Get a free print subscription to the Arkansas Times with the purchase of an annual Digital Subscription – PLUS two free tickets to the Little Rock Zoo!
The monthly Arkansas Times Magazine is a beautiful, glossy magazine that tells the story of Arkansas through its people, food, music, politics and history. You will receive it every month in the mail along with two free tickets to the Little Rock Zoo when you support the Times through your annual digital subscription to ArkTimes.com and the Arkansas Blog.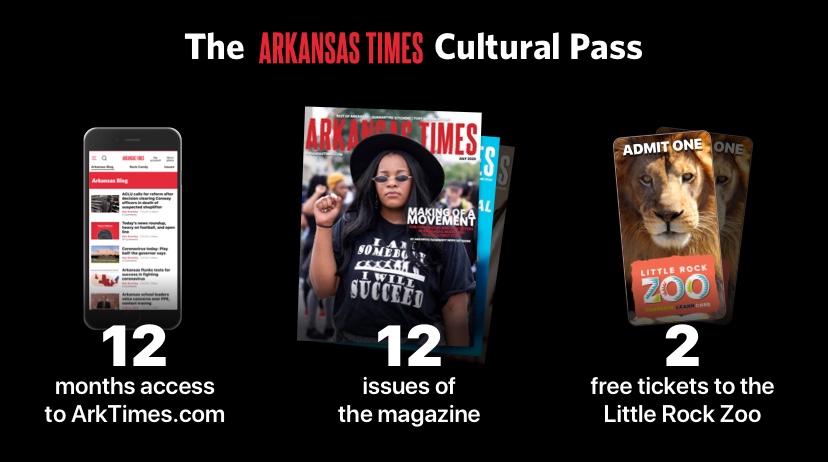 Already subscribed?
Take advantage of the deal now and the extra time will be tacked onto your existing subscription.
Hot Springs was "running wide open," with casino gambling happening in full view of God and everybody.
A forgotten historical parallel to the coronavirus pandemic.
With your help, we will get through this
Our small newsroom has been working tirelessly to report on the latest coronavirus developments along with all the other news that matters. Please support us with a cash gift.
The 1974 National Black Political Convention.
Motivated by money and white supremacist beliefs, the state farm bureau, chambers of commerce and others lined up with segregationists to enact the 'right to work' law.
From memoirs by Henryetta Peck and Robert Peck
In 1956, Winthrop Rockefeller made his local school district in Morrilton an offer that it surely could not refuse: unlimited access to his considerable inherited Standard Oil fortune to fund a model school program that would be the envy of the state, the South and the nation.
Gambling has defined the city since the 1920s.
Re-Evaluating the 1981 "Monkey Trial."
Dave Cox's forgotten campaign and the 1962 election for Arkansas governor. An exclusive excerpt of Ernie Dumas' political memoir.
With his Walk Against Fear 50 years ago.
What's lost when we consider the history of racial violence from a white perspective.