Hide
Get a free print subscription to the Arkansas Times with the purchase of an annual Digital Subscription – PLUS two free tickets to the Little Rock Zoo!
The monthly Arkansas Times Magazine is a beautiful, glossy magazine that tells the story of Arkansas through its people, food, music, politics and history. You will receive it every month in the mail along with two free tickets to the Little Rock Zoo when you support the Times through your annual digital subscription to ArkTimes.com and the Arkansas Blog.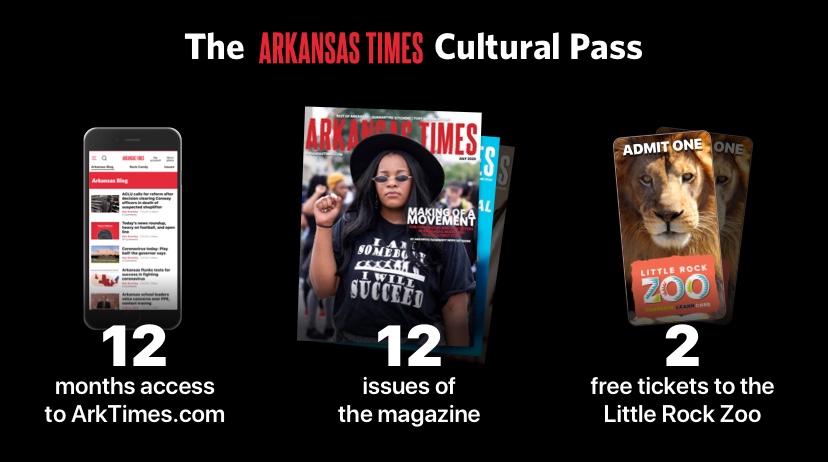 Already subscribed?
Take advantage of the deal now and the extra time will be tacked onto your existing subscription.
Growing up I lived with my mother and two sisters. My father was a participant, as well; however, he lived out of town so it was typically my mother who initially met and "approved" those I dated. My mom was also an avid Razorback basketball fan.
With your help, we will get through this
Our small newsroom has been working tirelessly to report on the latest coronavirus developments along with all the other news that matters. Please support us with a cash gift.
I give Wes, my BFF (Best Freakin' Friend), too much credit, but occasionally he hits the nail on the head.
Back in June, circa 1998, I flew to Chicago for the first time with my aunt Liz.
I've found myself aware of expecting the worst — dreaming flat tires, so to speak.
One Saturday in January of 2006 I met with my best friend Wes to solicit his candid, un-sugar-coated advice about my latest relationship.
I call boys. Always have.